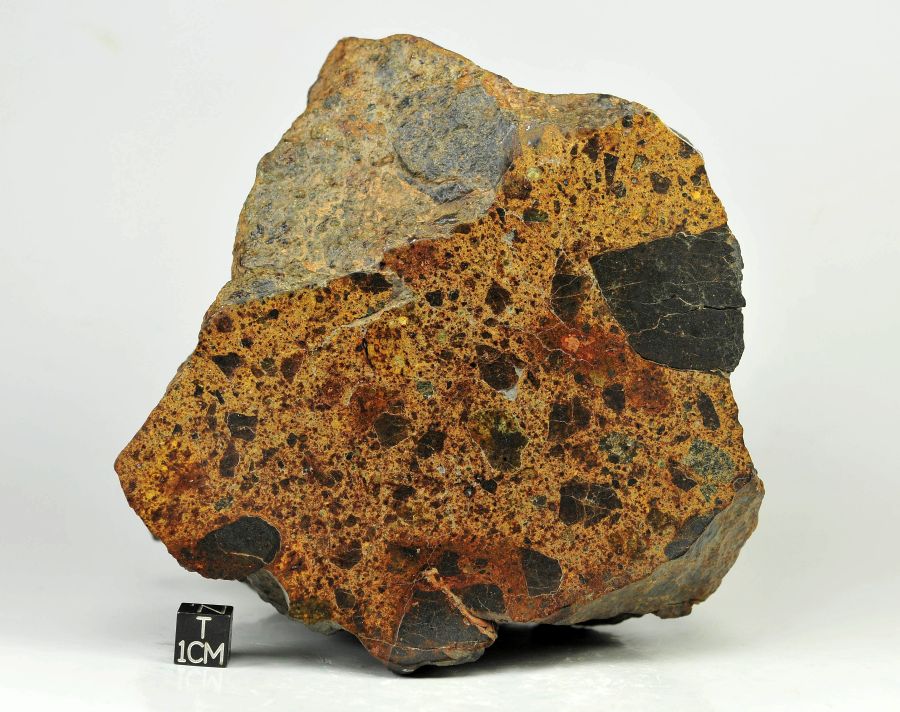 Additionally Dr Ansgar Greshake MNB made research of odd looked clast here is his comments :
"The composition of the clast from NWA 8524 and it is not LL.
Olivine is L-type and pyroxene is pigeonite. See attached image.
I would say it is an L-related melt clast. The formation of pigeonite is quite typical as Ca-content increases during progressive crystallization of the melt. The formation of plagioclase was suppressed as the clast was very quickly cooled. So the interstitial matrix is glassy or microcrystalline.
Large partly euhedral olivine grains set into a quenched matrix of needle- and chain-like olivine and pyroxenes in glassy groundmass. Likely foreign to the host meteorite "
Basic information:
Name: Northwest Africa 8524
This is an OFFICIAL meteorite name.
Abbreviation: NWA 8524
Observed fall: No
Year found: 2014
Country: (Northwest Africa)
Mass: 3.5 kg
Classification history:
Recommended: LL4-6
Comments: Approved 15 Aug 2014
Data from MB103, Table 0, Line 0:
Place of purchase: Zagora, Morocco
Date: P 2014
Mass (g): 3500
Pieces: many
Class: LL4-6
Shock stage: S2
Weathering grade: W2
Fayalite (mol%): 28.2; 28.7±0.4 (28.3-29.5, n=14)
Ferrosilite (mol%): 24.5; 21.5±5.2 (8.3-24.9, n=23)
Classifier: A. Greshake, MNB
Type spec mass (g): 70
Type spec location: MNB
Main mass: Tomasz Jakubowski
Comments: Submitted by Ansgar Greshake